What I'm Always Looking For
What I'm Always Looking For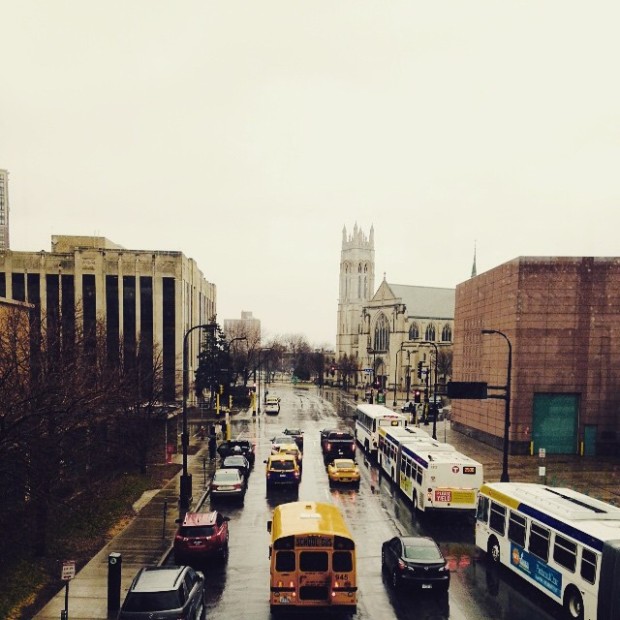 New city this week! I was lucky enough to travel to Minneapolis, Minnesota for the AWP (Association of Writers & Writing Programs) conference. And when I visit a new city I'm always looking for a couple of things:
1.) the beautiful churches in the downtown area (always made of stone so worn it almost looks soft and always tucked in among the taller, more angular buildings of commerce, education, and infrastructure). I'm always interested in finding these beautiful edifices. I love how they seem to have sprouted up along with the other important buildings but have remained useful and beautiful despite the years. I love how they look different from those other buildings (always distinctive and unique) and yet still seem to fit in naturally with the metro landscape.
2.) the people doing art in the creative centers. Our group toured the amazing Loft Literary Center and our minds were blown. We walked through the offices of small publishers and the shared space of teachers and students of the Center. We even helped make paper and watched a letter-press in action. When we first entered the open house, we were greeted by an enthusiastic woman with silver hair who said, "We're just so proud of our building – I hope you'll enjoy looking around" with as much genuine passion as she must have said it to the other hundreds of people who has arrived before us.
While these two types of landmarks – churches and art centers – are separate and different from one another, they appeal to me in similar ways. It's just knowing that places like this exist that gives me hope. That such places are in the world, doing their good work, standing in their places as advocates for art or faith or whatever work it is that brings them life.
I'm inspired by these centers to do similar work in my own city and life. And what I know is that the working and the standing are hard some days. Imagine the literary center that on Thursday night was as packed as a night club, rooms overflowing with people, booze, and appetizers. But I bet today it's pretty quiet, and somebody is probably having to mop those striking wood floors, empty the non-glamorous trash cans.
Likewise, for that beautiful church to stay standing, someone has to monitor the health of its foundation, the wear in its carpets, the caulk in its windows. Not fun work but necessary.
So I've come home from a writing conference full of ideas and new faces, stocked with new books to read and submission guidelines to journals that might like my work. I'm inspired but know the only thing to do now is to get to work.